When and where does the Chorus meet?
Saturdays 10:00am to 12 noon, September to June
Minster Christian Centre, Sturminster Road, Roath, Cardiff, CF23 5AQ
Organising Committee contacts
Chair: Bill Thorn
chair [at] roathcommunitychorus [dot] org [dot] uk
Secretary: Helen Dharmasena
secretary [at] roathcommunitychorus [dot] org [dot] uk
Publicity  Officer: Stuart Cooper
publicity [at] roathcommunitychorus [dot] org [dot] uk 
Librarian : Judith Smith
librarian [at] roathcommunitychorus [dot] org [dot] uk
Refreshments Co-ordinator:
Diana Bettey 
Musical Director: Ben Pinnow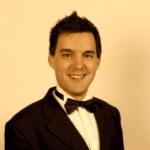 Ben is the current musical director of Roath Community Chorus,Opera Mint Wales, and City Voices Bristol. He is also acting musical director for Cwmbach Male Choir and assistant musical director for Canton Chorus. He has performed in venues across the UK and, being a keen traveller, his work has taken him to various places in Europe including France, Spain, Poland and a cave in Gibraltar. He has conducted in masterclasses with Simon Halsey, Stephen Harris, Karen Grylls, Greg Beardsall and Alice Farnham. During his time at the Welsh College of Music and Drama,  Ben was assistant chorus master for the RWCMD Chamber Choir's performance of Rossini's Petite Messe Solennelle and the RWCMD Chorus and Orchestra's performances of Prokofiev's Alexander Nevsky in 2011 and in 2012, Verdi's Requiemunder maestro Carlo Rizzi. In 2013 he worked as conductor for Bute Park Opera's debut performance, Ravel's L'enfant et les sortileges and conducted the college's Early Vocal Consort, preparing music for a concert with soprano Elin Manahan Thomas. He has also been engaged to conduct a concert of opera scenes for the Wales International Academy of Voice. He also works as MD in the musical theatre world and has been engaged on a number of different productions, most recently with Radyr Parish Music Group, Oklahoma (2013) Thoroughly Modern Millie (2014) and Pirates of Penzance(2015). For time now, Ben has been a member of the BBC National Chorus of Wales with whom he has participated in many projects including performances at the BBC Proms in the Royal Albert Hall and a tour to Paris in 2009.
Originally from Dorset, Ben trained at Cardiff University where he studied piano with renowned concert pianist Richard Ormrod and completed a Masters in composition under tuition from Anthony Powers. While at university he took an active role in the music department's choral activities, being co-founder of the University's Purcell Singers.  He has been performing as pianist and choral singer since an early age and holds the ABRSM Diploma in piano performance which he passed with Distinction in 2002.
As repetiteur and accompanist, Ben performs frequently alongside choirs, singers and instrumentalists and has worked extensively with Opera'r Ddraig and Welsh National Opera's education and outreach department. Recent engagements include Hansel and Gretel (2014) and The Beggar's Opera (2015).
In his spare time, if he gets any, Ben has a fascination with the cinema and is an amateur filmmaker having written and directed two short films. He is also a member of popular Cardiff-based folk group Uisge ContraBand who have performed at public and private cèilidhs across the UK.
Répétiteur: Judith Rose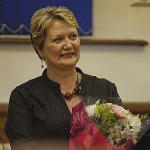 Judith is an accomplished musician and singer, and supports Ben in directing the Chorus by accompanying him each week on the piano and providing  additional support to various section of the Chorus as required. She has written many arrangements for the RCC which have been performed at their twice yearly concerts.  She works with South Wales Gay Men's Chorus and also finds time to offer private singing lessons.